BIOGRAPHY: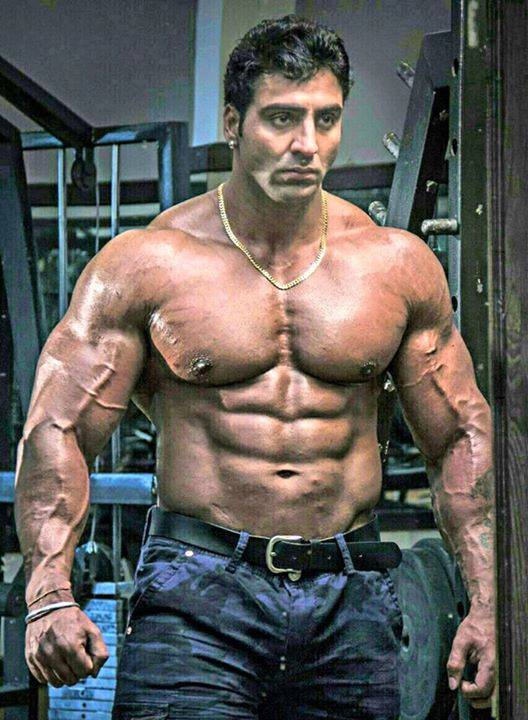 Name: Varinder Singh Ghuman
Nickname: Unknown
Born: Jalandhar, Punjab, India
Height: 6"3 (190 cm)
Weight: Contest: 264 lb (120 kg)
Date of birth: May 14, 1972 (age 46)
Best win: Mr. India in 2009 & 2nd Place in Mr. Asia,
Competitions:
2012 IFBB Australian Grand Prix - 7th,
2015 IFBB Toronto Pro - 14th,
2013 IFBB Mr Europe Pro - 16th,

VARINDER SINGH GHUMAN DIET AND WORKOUT PLAN
Ghuman is a vegetarian and colostrum, the first milk produced by mammals after child birth forms a significant part of his nutrient profile. Colostrum is a rich source of high-quality proteins and growth hormones. His vegetarian bodybuilding diet consists of yellow dal, chapattis, green salad, curd and lassi. As part of his bodybuilding workout, he uses each day of the week to exercise a specific body part. Weekends are dedicated to cardio sessions.
| | |
| --- | --- |
| | Indian Bodybuilder, Punjabi Wrestler, Artist, Film Director, Film Producer, Film Actor, Business Person |
Varinder Singh Ghuman is an Indian professional bodybuilder and Punjabi wrestler.   Ghuman has won Mr. India in 2009 and he was awarded 2nd place in Mr. Asia. He has been roped in by Arnold Schwarzenegger for promoting his health products in Asia as his brand ambassador. He appears in the 2012 Punjabi film Kabaddi Once Again as lead actor, and in the 2014 film Roar: Tigers of the Sundarbans. Varinder is the first Indian bodybuilder to secure IFBB pro card. He is the world's first vegetarian professional bodybuilder.