BIOGRAPHY:
Name: Suhas Madhukar Khamkar
Nickname: Suhas Khamkar
Born: Kolhapur, Maharashtra, India
Height: 5"7 (172 cm)
Weight: Contest: 190–198 lb (86–90 kg)
Date of birth: August 09, 1980 (age 38)
Best win: 2010-2011 Mr. World Bodybuilding 1st Runner-up,
Competitions:
Mr. Asia Body Building Title (2010).
Mr. Olympia Amateur Body Building 1st Runner-up (2012).
Mr. World Bodybuilding 1st Runner-up (2010–11).
Ten-Time Mr.India Body Building Title (2004, 2006 To 2015).
eight Times Mr.Maharashtra Title (2006 To 2008 & 2010 To 2014).
Nine-Time Mr.All India Railway Gold (2004 To 2012).
Four-Time Mr.Shivsena Body Building Title (2006, 2008 To 2010).
Four-Time Mr.Mumbai Mayor Body Building Title (2002, 2003, 2007, 2008).
Four-Time Mr.New Mumbai Mayor Body Building Title (2003, 2007, 2009, 2010).
Five-Time Mr.Hindu Hruday Samarat Body Building Title (2005, 2008 To 2011).
Mr. Goa Body Building Title (2006).
Two-Times Mr.Mayor Kolhapur Body Building Title (2001, 2005).
Mr. Mayor Ujjain (M.P.) Bodybuilding Title (2010).
Three-Time Mr.Maharashtra Kamgar Body Building Title (1997 To 1999).
Suhas Madhukar Khamkar is a professional bodybuilder from India.
Suhas Khamkar Diet
During the initial days of bodybuilding Suhas Khamkar did not give much attention to diet. Also his financial status was not so good to take care of his diet. So during those his diet comprised of eggs and Khad dhanya, which was all his source of protein carbs and vitamins.
After becoming professional he started taking his diet seriously. Today Suhas Khamkar takes a diet rich in protein. below is the ideal diet during off season.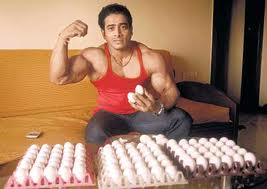 1.5 KG Chicken
50 Eggs
6 Banana
700 Gm Fish
5 Kg fruits
Protein supplement
He takes 6 meals in a day.
His diet changes drastically while preparing for competition, he controls the in take of carbs and concentrates on iso-pure protein. Few days before the competition Suhas reduces water intake to avoid hydration. which makes him look shredded.
His diet also changes when he plans to enter into a special weight category. Like when he was preparing for Mr Asia his strategy was to compete in 75Kg category. His weight at that time was 84 KG. So to bring down his weight he had to cut down heavily on carbs intake.
Early life
He is a native of Kolhapur region. He comes from a family of fitness experts and bodybuilders. Suhas's inspiration for bodybuilding can be traced back to his hometown Kolhapur, where he grew up watching wrestlers and bodybuilders. At age 16 Suhas drew inspiration from Arnold Schwarzenegger and sought to become a world champion bodybuilder.
Career
In the Mr. India 2012 event, he came 1st in 80Kg.
He was an employee of Central Railway of India. He was the first Indian bodybuilder to win a national level gold medal in the Railway national competitions. Khamkarr is the first Indian bodybuilder to win Mr. Asia (2010). He placed second in amateur Mr. Olympia (2012) which was held in Kuwait & MR OLYMPIA AMATEUR ASIA 2017 (SECOND PLACE).